Emergency Kit Insights – Sewing Kit
This one is a must! We may not need it at every wedding (and if we did I'd be seriously questioning clothing quality!) but it's great to have it there when a wardrobe emergency occurs – and it will happen eventually. If you don't have a sewing kit in your emergency kit, there's a problem. Or it's just been used so much that you're in need of a new one!
Here's a little story for you on just why there's nothing like a sewing kit: At a recent wedding, the girls were putting the finishing touches on their looks and as one bridesmaid went to zip her strapless, floor length gown the zipper came right off the track. Obviously the first course of action was to try and get it back on the track but it became clear that that wasn't going to happen. That's right the only thing to hold that dress up was irrevocably broken. Bridesmaid's worst nightmare. And this was no small zipper, no no, we were looking at almost two feet of fabric, gaping open, trying to break us. It was time to pull out the sewing kit and work a little magic! And magic it was because that dress stayed up without a problem for the entire wedding and reception, including some wild time on the dance floor! For anyone wondering at this point why we didn't just safety pin it, trust me when I say no amount of safety pins would've salvaged this dress and also ensure that poor bridesmaid held her head up high with confidence for the rest of the day and night.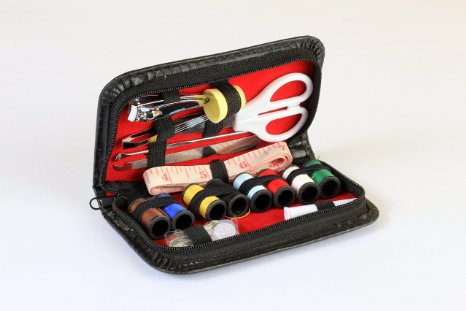 Source
Another lifesaver that day: my assistant. After a quick tutorial, she was able to spend an hour sewing this girl into her dress so I could make sure the rest of the wedding prep was going smoothly. And it actually looked good when she got done – no one would've guessed that dress had been a real pain just an hour earlier! Lucky for me she doesn't come in emergency kits, you'll have to get your own!
Later that night I had to whip out the sewing kit again when the bride's bustle broke but thankfully that was just a few quick stitches and it was all fixed! Seriously I don't know what we would've done without a needle and the perfect shade of thread (but really, somehow the thread matched both dresses perfectly!)
Every wedding has its own story and this one relies heavily on a needle and thread but I wouldn't have it any other way!